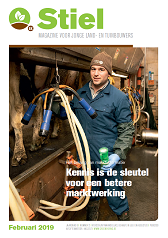 Stiel is a monthly magazine for members of Groene Kring, the biggest organisation for young farmers and horticulturists in the Dutch-speaking part of the country. Stiel is the only specialized magazine in Flanders especially for young agriculturists en horticulturists.
Stiel is a reference for information. It adresses the activities of Groene Kring members, but it treats also a  specific item every month. It emphasises on the technical aspects of farming, but also on economical, law and social matters, in carefully chosen articles. Actual and syndical items, relevant to young people, also have also their place in Stiel.
As our member potential does, Stiel covers every sector of the agri- and horticulture business. Every month, Stiel covers the special needs of information, necessary to the acquisition/continuing of a farm in the section 'De Wissel'. We also put an app in the spotlights.
Every proposition for the content of Stiel is welcome at Groene Kring.
> Subscribe to our newsletter and stay informed!