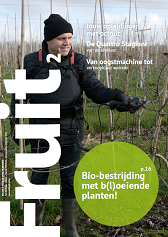 Fruit is the magazine for the members of the organizations pcfruit, the study group Fruit of the Farmers's Union, the pomological association of East Flanders and Studiekring Guvelingen.
Fruit is the only Belgian specialized magazine on and for the fruit sector. It reaches almost every Belgian fruit producer and interested parties from abroad also. This specialized magazine brings news from the world of fruit production in Belgium. Topics like pome fruits, stone fruits, grapes, berries and strawberries are discussed extensively. International developments are closely followed.
The magazine is released as Fruit from January 2017 and is the result of a collaboration between the former magazines Fruitteeltnieuws and Belgische Fruitrevue. These established names decided to join forces. So we harvested Fruit, a win-win for readers and for advertisers.