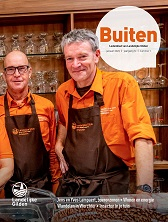 Buiten is the magazine for members of Landelijke Gilden. Buiten is also a Flemish synonym for the word 'countryside'. The powerful name of the magazine says what it's all about: the countryside and its inhabitants, the activities they organise and the framework in which they do so. The magazine radiates the power of the countryside, facing the future of this countryside and of Landelijke Gilden with great confidence.
Buiten is issued 6 times per year, together with an issue of Libelle Nest, and reaches about 64.000 members. The member spectrum is very wide and consists of families, men and women of different ages, independents, employees, retirees. Apart from the dossiers, themes and activities from Landelijke Gilden, the readers also get gardening tricks, member advantages and tips for trips.
The magazine radiates what Landelijke Gilden stands for: a warm organization, where everybody is welcomed and feels at home, and that is devoted to the livability of the countryside, where everybody can take part in activities together and experience the countryside in general, and agriculture and horticulture in particular.
> Subscribe to our newsletter and stay informed!